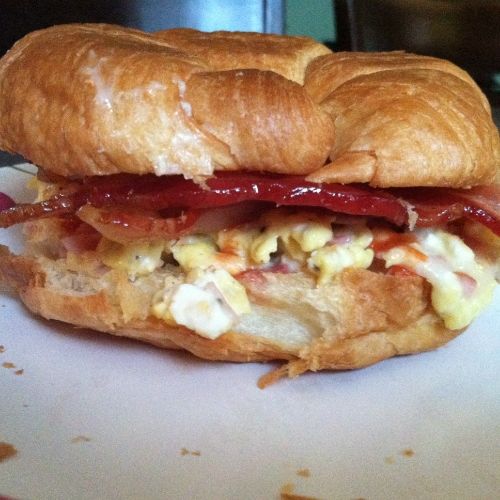 Dear Other Manly Men,
If you're like me, every now and then (or very often) you wake up in the morning and say "I want to make a breakfast that tastes awesome and I just don't give a sh!t if it takes a few years off my life! If oatmeal and fruit is what you have for breakfast every day with no exceptions, I'll just say it....Your wasting your time on this specific blog entry. I have no problems with a healthy breakfast, but I sure do enjoy living a little...
How about we make a breakfast sandwich stuffed full of goodness! Also known as bacon, egg, ham and cheese on a toasted croissant. I'm not going to try and figure out ways to tell you how this is healthy. There is nothing healthy about this sandwich, but EVERYTHING about it is oh so tasty! Besides, if you want to bitch about the nutrition facts, think about it this way....You have all day to work it off! There's plenty of protein and plenty of carbs so you shouldn't have any excuses about your future work out, right?
And if you REALLLLLLY want to make it "healthier," use honey wheat bread instead of a flaky, buttery, soft and mouth watering croissant...Sure, go ahead... If you just took me up on this offer, you obviously sit down to pee.
Another "alternative" would be to use a sunny side up egg instead of scrambled. Stacy likes a sunny side up egg, I like scrambled eggs with the ham and cheese cooked right in the same pan with the eggs.
Anyway, enough of my blabbing, hopefully you'll enjoy this sandwich. Check out the rest of the blog to see how to make it!
Bacon, Egg, Ham And Cheese on A Toasted Croissant
Ingredients and materials you will need:
1) Croissants (one croissant per sandwich...duh!)
2) Eggs (two eggs for scrambled, one egg for dippy or as many damn eggs as you want)
3) American cheese (two slices or as many damn slices as you want)
4) 1 Package of bacon
5) 3-4 slices of ham (or as many damn slices as you want)
6) Cooking spray
7) Salt and pepper to taste
8) Non-Stick Foil. (non stick is important!)
9)
Franks Red Hot Sauce
(optional....for a woman)
* Pre-heat your oven to 350 degrees, if you cook your bacon in the oven like I do. I love cooking it in the oven for two reasons; It tastes GREAT and I can get several other things done while it's cooking, unlike cooking it in a frying pan.
*While the oven is pre-heating, line two average sized cookie sheets with
Reynolds Non Stick Aluminum Foil
. If you're a dude, you'll make the entire package of bacon because you will want to eat a few pieces just because you can! Also, my favorite bacon (as of now) is
Kunzler
Hardwood Smoked. The bacon in the photo is the original. We also LOVE the Honey Cured, but they were out of it. However, I'm always willing to give other brands a try!
*Once your bacon is on the lined pan, the oven should be done pre-heating so go ahead and throw both pans in. At about 12 minutes (give or take 1-2 minutes), take bacon out and rotate each sheet of bacon on to the opposite rack it began cooking on. Let it bake for another 10-12 minutes. Please check your bacon as you see fit.
*Now that your bacon is cooking, take your 3-4 slices of ham and chop them up. It's your choice whether you chop them fine or not. I like chopping mine up into pieces about the size of my ring finger nail.
*Next, go ahead and crack your eggs, put them into a bowl with a tiny bit of milk and add your salt and pepper to taste. What I just did is tell you how to make scrambled eggs. If you needed me to tell you that, I'm truly scared for you. If you're over the age of 7, you should know how to make scrambled eggs. Seriously, I burn oven mitts and kitchen towels and I can make scrambled eggs!
*Don't forget to rotate your bacon and then take it out! Assuming you haven't screwed up, your kitchen should be smelling FANTASTIC right now because of....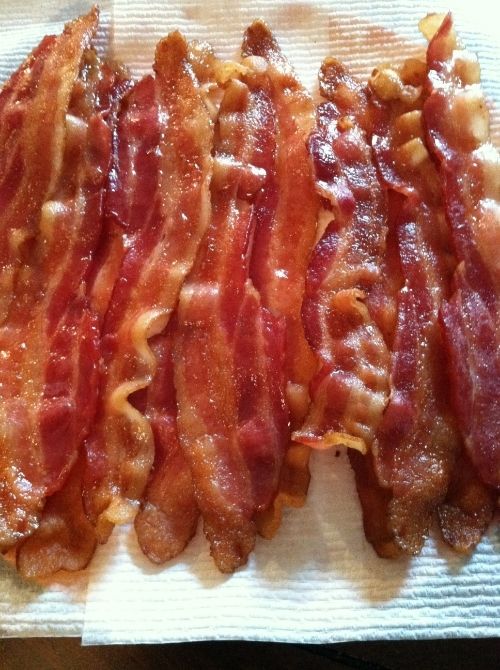 *See? Making an entire package of bacon makes total sense now. I'm well aware you're only making 1-2 sandwiches, which gives you plenty of spare bacon to munch on while your finishing your sandwich! Oh, and leave the oven on at 350 degrees! If you're making several sandwiches, you may not have extra bacon. If that scenario arrases, I'm sorry and I will pray for you.
*The next step is by far the most difficult....Cutting the croissant as evenly as possible! Yes, I'm serious and you'll understand what I mean when you try. Too thin on either half and your croissant won't be able to support all the ingredients. So, with that being said, take your time and use a large, sharp knife! I use this exact one made by
Faberware
, and I sharpen it every time I use it to cut a croissant. If it's sharp enough, it should slide right through with a gentle push. Again, make sure your knife is centered into the croissant before giving it that gentle push, otherwise you'll end up with 3/4 and 1/4 of a croissant instead of 1/2 and 1/2.
* Put the croissants in the oven for 5-7 minutes on 350 degrees (oven should still be on). You can either put the cheese on before you put them in the oven (like the photo below), or you can add your cheese right into your eggs along with your ham all in the same pan. My preference is all together in the pan, Stacy's preference is melting the cheese on the croissant. Basically, her way is civilized, my way is probably similar to how a cave man would do it. Either way, it's tastes GREAT!
*Now, just pile on bacon, eggs, ham and cheese....Add a little (or alot) Franks Red Hot, squish the croissant together and you have.....a very manly breakfast sandwich! Eat up! And no, I wouldn't share any of the left over bacon either! Also, if you have bacon, ham and eggs falling out of your sandwich and onto the plate as you go in for the kill, it means you put on enough ingredients and you should be proud of yourself!