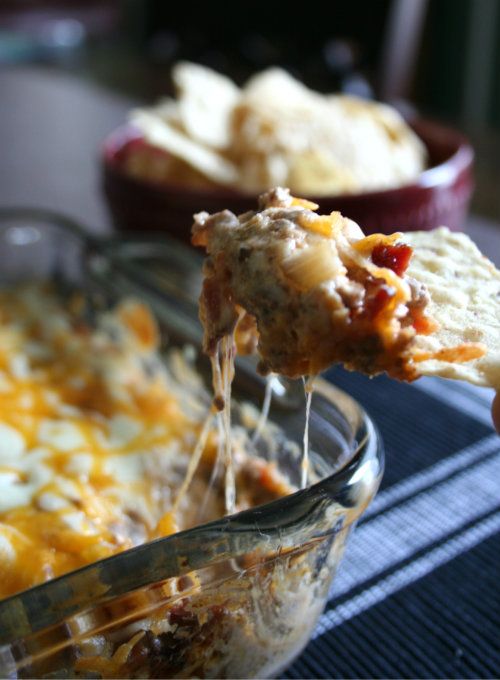 We've all had a ton of party dips, from your basic salsa to different taco dips, french onion dips, Mexican dips, and many others. Sure, they usually taste good, which is why they are often staples at most snack/appetizer tables for home parties and get togethers. However, don't you ever get sick of the same old thing to dip your tortilla in? Hopefully I have a solution for you...That solution is called Bacon Cheeseburger Dip! Not that you should need anymore convincing to make a dip with this title, but here's one more reason to make it...You use bacon grease! I'll say it again, YOU USE BACON GREASE! What I'm saying is, bacon grease is an actual ingredient in this dish! Oh, and if you prefer to eat the same diet as a rabbit or a supermodel, this dip may not be for you. Otherwise, have at it and remember....sharing any dish that involves bacon is 100% optional! To be completely honest, you're more than welcome to punch someone in the mouth if you notice them going after the spots with more bacon.
Here is one thing I need to confess: There are a lot of ingredients in this dish and it's time consuming, but it's NOT hard to make! Besides, I added a little more of this and little more of that just because I wanted to. I mean come on, what's the harm in adding a little bit more bacon than the recipe calls for? If you said "nothing at all Brian," you are correct! If you have a problem with adding extra bacon, you should go play in traffic. And, If you make this dip right, chances are, your chip will break at least 50% of the time when attempting to go in for the kill. That's not a problem! Just be a hog and scoop it out however you see fit.
Ingredients
* 1/2 lb. of ground beef (Are you kidding me? I used 1 LB of 80/20)
* 8 strips of bacon (What!? How about 12 and a few strips just to eat while cooking!)
* 1.5 tablespoons of bacon grease (In man terms that mean AT LEAST 2 tablespoons!)
* 1/2 diced onion
* 1 clove garlic (that is 1-1.5 teaspoons of minced garlic)
* 4 oz. of SOFTENED cream cheese (Make sure it's very soft, otherwise it won't mix evenly)
* 1 tablespoon of worcestershire sauce
* 2 tablespoons of ketchup
* 1/2 cup of sour cream
* 1/4 cup of mayonnaise
* 1/2 cup of shredded mozzarella (I used at least 3/4 of a cup, probably 1 cup)
* 1/2 cup of shredded cheddar (See above!)
Ok, now that you have your ingredients, here is what you do with them! Trust me at your own risk!
1) Preheat the oven to 350 degrees.
2) Get your bacon out and ready to cook- As you know, I like using non stick foil and cooking my bacon in the oven at 350 degrees.
3) Get your ground beef on the stove and start browning it.
4) While all of your meat is cooking, dice up half an onion and combine your garlic and onion into a small bowl, which will make it easier to add later.
5) In a large mixing bowl, combine the following: cream cheese, sour cream, worcestershire sauce, ketchup, mayonnaise, and both cheeses. Mix to combine.
6) Drain your beef and put the beef into a bowl. Using the same already hot pan, add the saved bacon grease, garlic and onion and saute until you notice some golden brown color. It will smell GREAT!
7) Chop your bacon into pieces to any size of your liking. (Mine are roughly the size of a stamp)
8) Add the bacon, beef, onion and garlic to the other combined ingredients. Mix with a rubber spatula
9) Add into an 8x8 or 9x9 baking dish, depending on how much of the ingredients you used. If you used noticeably more cheese, bacon, etc. than the recipe calls for, I'd go with the 9x9
10) Cook in the oven at 350 degrees for 15-20 minutes.
Side note: I added another 1/4 cup-ish of cheddar and mozzarella on the top before baking. Why the hell not? Adding more cheese is just as awesome as adding more bacon, unless of course, you're a dude who actually thinks it's ok to wear skinny jeans.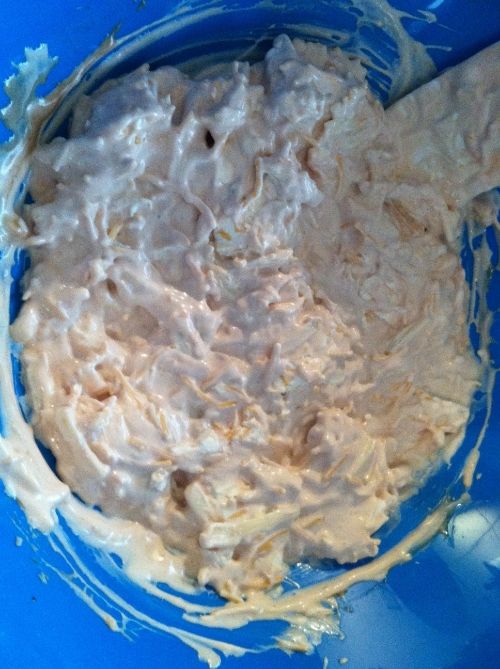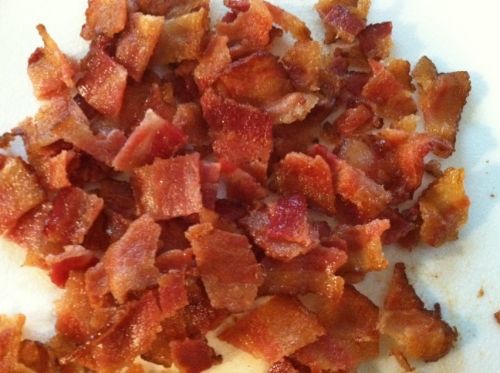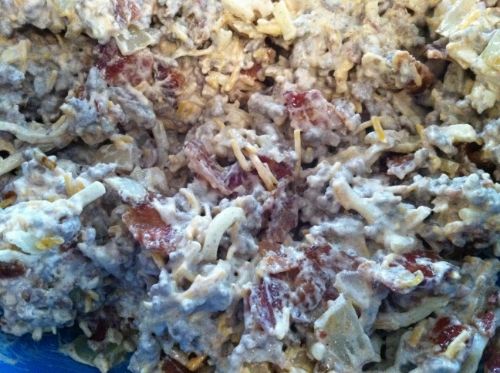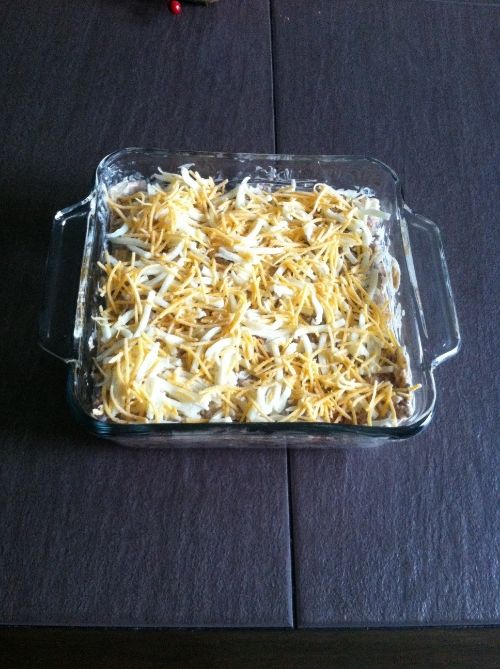 There you have it! You only have one more job to do. Pile as many tortilla chips into a bowl as you can, do the same with the Bacon Cheeseburger Dip and start scarfing! Seriously, go eat the damn dip, you just spent all that time making it! Also, don't share this with anyone who doesn't help with all the dirty F'n dishes!