Days 46, 47 and 48: Happy Easter everyone! Welp, I made it, no not to my ultimate goal, but I have made it to and through my first in holiday in SIXTEEN YEARS without nicotine! I feel great and it feels great not needing/wanting a dip when I am spending time with my family during the holiday! If you read my last blog, you know how important today is to me since realizing this Easter was my first holiday in sixteen years that I wasn't chewing. I truly believe I missed the most valuable time with brother during the holidays because I was always getting up and "going out" to chew. I missed a lot of good times, good laughs and good conversations with my brother because I just HAD to chew. I will never, and I mean NEVER miss valuable time with my family again because of f'n nicotine! FU nicotine!
Today the kids had off, so naturally, they were up at the butt crack of dawn. Hey mom, remind you of anyone? We decided to get some breakfast, get the house cleaned up and then go to the playground to blow off some steam. It was a blast! I forgot how fun it was to climb on things. Yes, I know I sound like a gorilla when I say that, but it's true. Next time you are near a playground, go down the slide, do the monkey bars, hell, just climb something! It felt great! Technically, there is no age limitation on who can and can't play on the equipment! Plus, you instantly gain "street cred" with your kids if you can climb things. Just saying…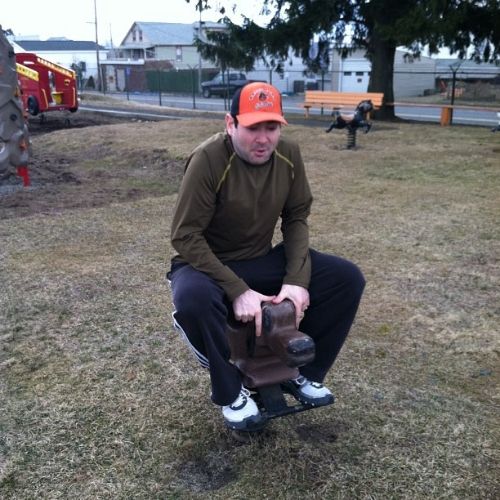 Our first Easter stop was my parent's house, which the kids love because Grammy Carol seems to think they ALWAYS need something new lol. Crafts, markers, crayons, toys, clothes, treats, sugar, etc. Oh don't worry, it gets worse lol. She feels the exact same way about our wiener dog to! To be honest, I'm pretty sure she believes our dog is another grandson! Today during our Easter visit, as always, my mom cooked enough to feed 75 people, including a giant ham, which is one of our traditions on Easter. I'm pretty sure a lot of people have ham on Easter, right? All I know is that after everyone ate, and we packed up about 20 slices of ham to bring home, there was still at least half a ham left! I love a cold ham sandwich during the next day, or in Stacy's and my case, later that night!
We also dyed eggs, made icing/cookie bunnies, had an Easter egg hunt, and of course the Easter Bunny brought baskets to Grammy's house, and our house, and Nana Roush's house to! We didn't even make it to Nana Roush's yet! So far, I think the kids had a pretty good Easter! Just at Grammy Carol's house alone, the kids ended up with enough sugar to last them until next Easter and that was only the first stop! It's going to be a long few days for Stacy and me. When does school start back up again!? Lol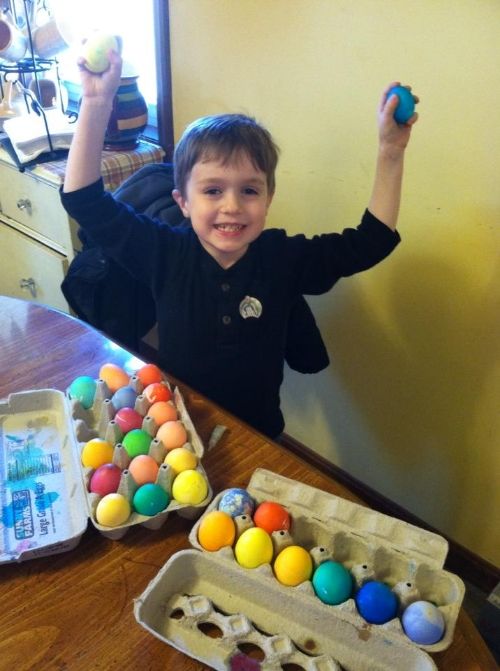 This morning, even though the Easter Bunny already visited Grammy Carol's house, we noticed he also visited our house! The kids were extremely excited and it's so awesome to see. Pretty soon, holidays like Christmas and Easter will still be great, but they won't be priceless anymore. Before we know it, the kids won't believe in Santa and the Easter Bunny. They'll always have a smile on their face during the holidays ( because that's Stacy's and my job), but a sincere childlike grin and smile when they see that Santa and the Easter Bunny came only lasts a few years so I'm going to enjoy them while I can!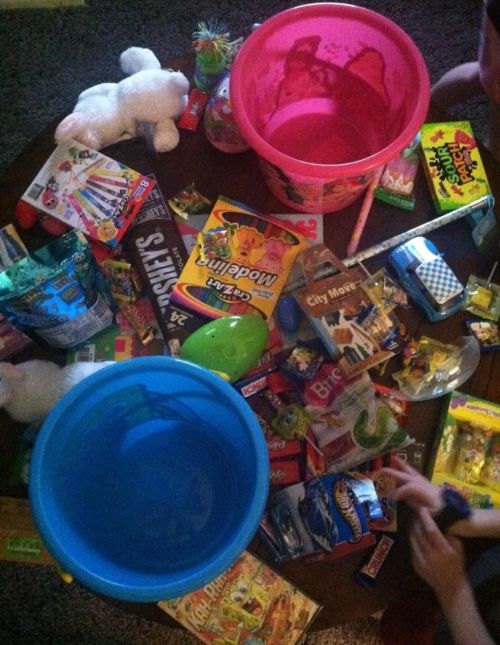 We're just about to head to Wal-Mart, because in a few "special" eggs, the Easter Bunny left a couple of bucks for Auden and Beckett. Plus, it's always nice for all of us to get out and enjoy some fresh air, especially after a 48 hour sugar high! We won't be out too long because Stacy isn't feeling that well and we need to get her better for her birthday tomorrow! Ask her age at your own risk!
Ok, I'll ask again, how are your NCAA brackets looking? Keep in mind, you are reading this with the Final Four teams being officially set. I believe I have two teams left, which isn't bad, but it wouldn't win me any money, unless both my teams play in the title game, and of course my champion becomes the real champion. If ANY of you had Wichita State in the Final Four, you're both an idiot and a genius! Although it's a not a huge surprise to see Syracuse in the Final Four, I bet most of us do not have them playing in the Final Four. Oh, not to mention, the 'Cuse is dominating!
Happy Easter from my family to yours! Good night all…